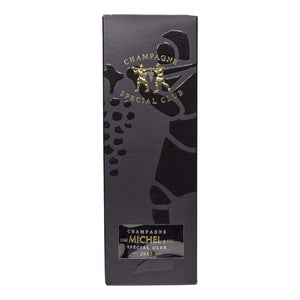 Generous, richly expressive, and earthy.  What remains the best value in all of Special Club Champagnes. Jose Michel's Special Club, as Champagne guru Richard Juhlin notes, is alongside Krug as one of the most iconic wines that feature Pinot Meunier. Only 28 growers are members of this exclusive Special Club. Some from vines over 70 years old. Golden yellow, dleicate and lively bubbles. Elegant aromatic complexity with superb finesse, floral hints with hazelnut and grilled almond aromas. Superb full mouth with undertones of toasted bread & stewed yellow-fleshed fruit with a slight floral touch.

The Domaine Jose Michel is located in the village of Moussy, just south of Epernay in the heart of Champagne. This Pinot Meunier virtuoso has owned vineyards since 1847 and is one of the oldest wine growing families in the village. They are a founding member of the group Tresors de Champagne known as the Special Club. The vineyard sights with a richer clay soil are planted to Pinot Noir and Pinot Meunier. The lower slopes which have a calcareous soil are planted to Chardonnay. The wines all go through malo so expect vinous, creamy textured wines.
The Club de Viticulteurs is a group of independent Champagne producers who have come together in order to promote the high quality of their work. The José Michel Special Club was chosen by this group as an ambassador of quality and given the right to use the Special Club label and antique bottle. The Special Club is a blend of 40% Pinot Meunier and 60% Chardonnay.  The champagne is disgorged according to demand and currently has six years on the lees "sur lattes" with dosage carrying just 6.5 grams.