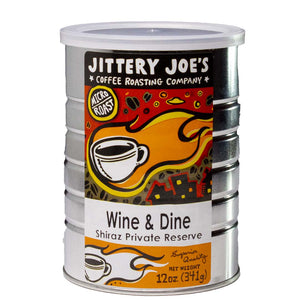 Less than a mile away from Jittery Joe's Coffee Roasters, Shiraz Fine Wine & Gourmet is the original wine and food shop in Athens, Georgia.  What happens when a sommelier and winemaker is invited to make her own coffee blend?  The result is Wine and Dine, a coffee designed to be as complex and as drinkable as a great bottle of wine.  We put together light roast Ethiopian Yirgacheffe and a honey treated Nicaraguan coffee for a rich but balanced coffee.  The resulting medium roast is smooth enough to drink on its own and also has enough character to stand up to cream, sugar, flavored syrups, or steamed milk.  It has become a staple in our pantries and we hope you love it as much as we do!  Cheers!
Jittery Joe's Coffee Roasting Company

The company has been recharging bodies and pleasing taste buds since 1994. Our micro-roasted coffee keeps things fresh, rich and smooth. We have big big hopes for these little beans, so go ahead and get to know'em. Nice town. Cool stories. Great coffee.