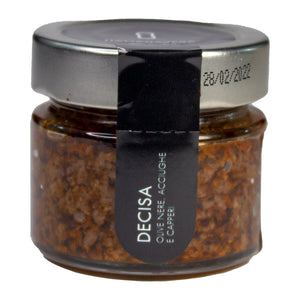 SPREADABLE CREAM WITH BLACK OLIVES, ANCHOVIES AND CAPERS

This cream comes from a careful selection of black and green olives, capers and anchovies. It is a recipe typical of Provence, known as tapenade and renamed by us "decisa" for its flavor full of character, but at the same time delicate and tasty.
EVO Oil and gourmet ingredients make this recipe unique: an Italian reinterpretation of a delicious puree, ideal for covering croutons or bruschetta, accompanying dishes based on fish, pasta and eggs. A perfect and versatile dressing for palates from true connoisseur.