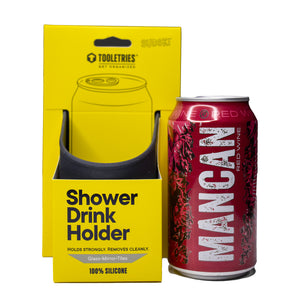 One of the greatest things you didn't know you needed:  a moveable yet stable home for beer, wine, water, soda...
this set comes with
-1 shower drink holders
-1 can (12 ounces) dry robust red wine
Some days are tough. And on those days, there are but two things that can bring you back to normality: a hot shower and a cold beer. So, why not go all-out and combine the two? Our Shower Drink Holder is the ultimate in bathroom indulgence. Made from 100% silicone, it will secure to any smooth, clean surface including glass and tiles, and importantly, will keep your beverage safe, sound, and right at your fingertips.
drink holder works on:
Glass/ Perspex,
Mirror,
Shiny Tiles,
Shiny Marble,
Shiny Fiberglass, &
Gloss Finished Metal (fridge)