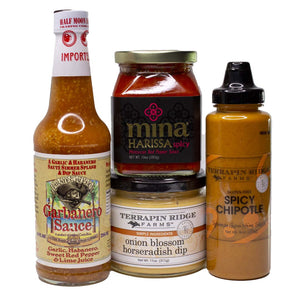 A garlic habanero sauce, onion blossom horseradish dip, spicy harissa moroccan red pepper sauce, and spicy chipotle squeeze garnishing sauce.  Something to put on anything you make to make it spicier and tastier!  Features Pirates Blend from Half Moon Bay, Terrapin Ridge, and Mina Harissa Sauce.

Pirates Blend Garbanero Sauce:  Designed to make you rise up & take charge in the kitchen! Just open and pour on whatever you're cookin' up - chicken, beef, pork, seafood, pizza, tofu, veggies… whatever! And cook on the stove, grill, ov­­en, broiler or microwave. Makes a great marinade & is good on the grill, too. Its' abundant garlic base & other savory ingredients give this versatile sauce its' original & celebrated flavor! Great for Table use too! Spicy - Not Hot!
Terrapin Ridge Onion Blossom Horseradish Dip:  Treat yourself, friends, and family with an exceptional onion blossom horseradish dip by Terrapin Ridge Farms, famous for its unique flavor combination that creates an irresistible and impeccable sensation. Made with an extensive choice of carefully selected high-quality and fresh horseradish, known for its spicy flavor and pungent odor, this exceptional dip will add a burst of savory flavors to your culinary masterpieces. Onion blossom horseradish dip by Terrapin Ridge Farms can be paired with chicken tenders, onion rings, and pita chips. Keep in mind that it makes a lip-smacking accompaniment for all of your family gatherings and special occasions.
Mina Harissa:  the ultimate red pepper condiment and sauce that transforms many dishes into a culinary delight. This harissa, unlike so many on the market that are overwhelmingly spicy just to be spicy-hot, is ALL ABOUT FLAVOR.
Terrapin Ridge Spicy Chipotle Squeeze:  A well-blended balance of chipotle peppers, spices, cider vinegar and the zip of orange juice. This gourmet sauce is excellent to squeeze on fish tacos, grilled chicken breasts and great to garnish crab cakes or shrimp skewers. It adds a spicy kick to burgers, fries, sandwiches, etc.