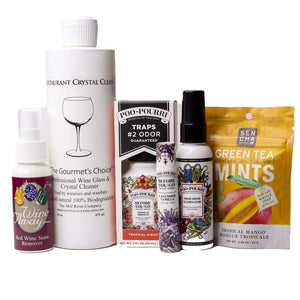 The little touches make a big difference!  Here is a set to keep everything in your life fresh and clean.  Wine away takes wine out of clothes or carpet in a snap; Restaurant Crystal clean makes wine glasses sparkle; Poo pourri keeps bathrooms fresh and the kit includes a purse sized bottle as well; Shoe eliminator is like foot odor never happened; and our favorite breath mints work wonders.

*scents may vary slightly. 
pricing will be consistent*
More about restaurant crystal clean:
PURE & CLEAN: Plant-based. No film, No spots, No odor, No bitter tastes! No chemical aromas or aftertastes! 100% Biodegradable, No Preservatives, No Hydro-Carbons

BEAUTY & EASE : Reduces polishing up to 97%; your glasses will look spectacular. Also perfect for art glass and collectibles. Immediate Results, No Soaking. For handwashing or machine washing. A quick wipe to dry is all you need. Concentrated, only 1 drop per glass.
More about wine away:
Works on fresh and dried stains without the use of bleach or phosphates

Featured in: Good Housekeeping, Food & Wine, Today Show, Rachael Ray, Washington Post, Architectural Digest, InStyle and many other nationaly recognized magazines

ALSO EFFECTIVE ON: coffee, blood, ink, fruit punch, sauces, red medicine stains, and even pet accidents

Has a fresh citrus scent.

Selected by Disney to be part of their Food & Wine Festival

Wine Away has received more media endorsements than any other red wine stain remover on the market.

WOMEN OWNED BUSINESS and MADE IN THE USA
More about Poo-Pourri:
Most odor eliminators are as "natural" as pleather pants - but not Poo~Pourri. When we say natural, we actually mean it.
Made with a blend of

 

NATURAL ESSENTIAL OILS

 

and other top secret ingredients, our revolutionary
Before-You-Go Toilet Spray makes going #2 easy-breezy without making you sneezy.