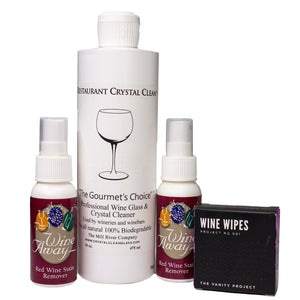 Take  care of your glassware, clothes, and teeth all with the best products for the job!

Use a drop of restaurant crystal clean to hand wash your glasses or put a teaspoon in the dishwasher after a dinner party.
Wine away gets wine out of clothes, carpet, and upholstery with a quick spritz.  2 purse - sized bottles are easy to take wherever you might need them.
Wine wipes are the easiest way to keep your lips and teeth stain-free.  Simply swipe them over your mouth to get rid of wine.
More about restaurant crystal clean:
PURE & CLEAN: Plant-based. No film, No spots, No odor, No bitter tastes! No chemical aromas or aftertastes! 100% Biodegradable, No Preservatives, No Hydro-Carbons

BEAUTY & EASE : Reduces polishing up to 97%; your glasses will look spectacular. Also perfect for art glass and collectibles. Immediate Results, No Soaking. For handwashing or machine washing. A quick wipe to dry is all you need. Concentrated, only 1 drop per glass.
More about wine away:
Works on fresh and dried stains without the use of bleach or phosphates

Featured in: Good Housekeeping, Food & Wine, Today Show, Rachael Ray, Washington Post, Architectural Digest, InStyle and many other nationaly recognized magazines

ALSO EFFECTIVE ON: coffee, blood, ink, fruit punch, sauces, red medicine stains, and even pet accidents

Has a fresh citrus scent.

Selected by Disney to be part of their Food & Wine Festival

Wine Away has received more media endorsements than any other red wine stain remover on the market.

WOMEN OWNED BUSINESS and MADE IN THE USA