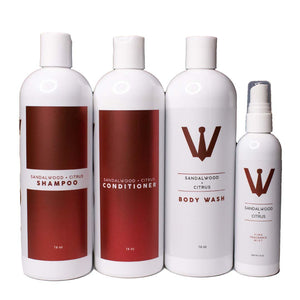 Wood is a favorite company based in Georgia, and their all-natural products feel and smell amazing.  Everything is concentrated, so there's less packaging and waste too!
The bundle includes shampoo, conditioner, body wash, and room fragrance.
WOOD Lifestyle Products originally began with a mission to create a better quality, and better smelling, laundry soap. Thus, our first product line was born. Laundry products with our signature scent – Sandalwood + Citrus. What started as a desire to transform the way laundry is done quickly evolved into a mission to  create signature scents that are enthralling and unforgettable.