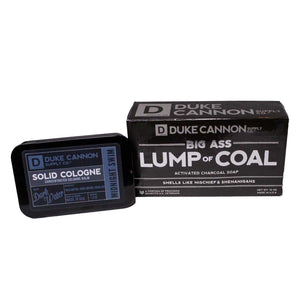 Smell good all day!  This combo of ultra cleansing bar soap with charcoal and solid cologne are both clean scents.  Plus the cologne is great for travel.
Duke Cannon's Solid Colognes are the alternative to offensive sprays that leave you smelling like you were attacked by the perfume lady at the mall. These portable, concentrated cologne balms melt at your fingertips for the precision application of fragrance on the go.

Inspired by the pure refreshment of a moonlit cannonball into the dark blue water of a remote forest lake, Midnight Swim offers a sophisticated blend of cold water, fresh air, and crisp green notes for a modern, slightly alluring, scent, perfect for a night not soon forgotten.
Smells like a magical night camping 7 years ago, not a trip down the the community waterslide last Saturday.
Big Ass Lump of Coal is a premium soap formulated with activated charcoal and featuring the masculine scent of bergamot and black pepper. It's the best way to clean up after mischief and shenanigans.
3x bigger and better smelling than traditional lumps of coal
According to cindy in accounting, this is a "super cute" gift for guys
May encourage mischief or general tomfoolery
A portion of proceeds benefits veteran and active duty military
Made with activated charcoal for a deeper and more trend-forward, clean