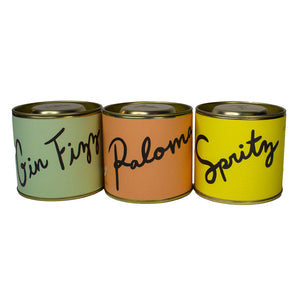 From our new 'With a Twist' collection, this 7 ounce candle has a brightly colored, whimsical label. When you want a glass of vino but also want it to be refreshing, reach for a wine spritz.
Spritz:  Notes of meyer lemon, verbena and bubbles recreate the summer staple.
Paloma:  This tart and refreshing summer sipper features notes of agave and pink grapefruit.
Gin Fizz:  This sparkling summer cocktail is brought to life with notes of cucumber and elderflower.
Made in United States of America.  Approximately 60 hours of burn time.